Cougar Report: The Findings
Welcome to the first ever Cougar Report from Cougared.com, the leading 100% free online dating site for older women and younger men.
Here is a quick overview of the main discoveries:
| | |
| --- | --- |
| | The most common age group for cougar women is 40-43, suggesting that hitting 40 may be what prompts some women to shake things up in their dating life. |
| | 76% of cougars are either divorced or separated from their husbands, which fits the idea that many women look for some fresh excitment after a stale marriage. |
| | More than 90% of cougars are looking for a serious relationship - a myth-busting finding which shows that cougar women aren't all just looking for casual fun. |
| | Most cougar women either let the younger man pay for dinner or insist on splitting the check - who says cougar women are all sugar mamas? |
| | 45% of cougars have dated more than five younger men - defying the claim that it's a one-off experiment...dating younger men is often a lifestyle choice. |
| | The ideal age group for a younger man (aka 'cougarbait') is 24-27, so they're not likely to be too inexperienced but are still full of youthful energy. |
| | Bars and online dating sites are the best place to meet cougar women, but you knew that already, right? |
| | Emotional baggage is what most turn cougars off dating men their own age, so older guys need to lighten up to compete with the young guns. |
For a detailed breakdown of all the questions, and to make your own interpretation of the trends check out the full graphical survey results with summaries:
Part 1: Age and Relationship History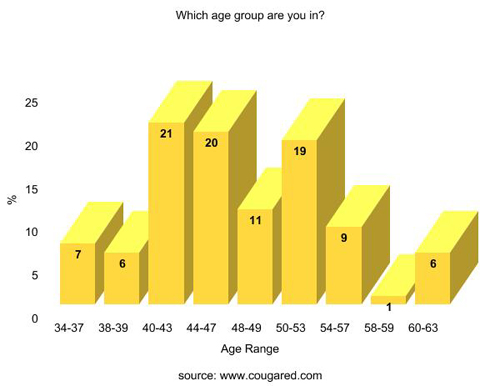 More than half of cougar women (52%) are in their 40s, with the next biggest group being the 50-somethings (29%). The younger cougars in their thirties – sometimes called 'kittens' or CITs (cougars in training) - make up 13%, while just 6% are over 60.

A sizable 76% of cougar women are divorced or separated, while 15% have never been married. The remainder are either widowed (5%) or still married but looking for extra fun (4%).


---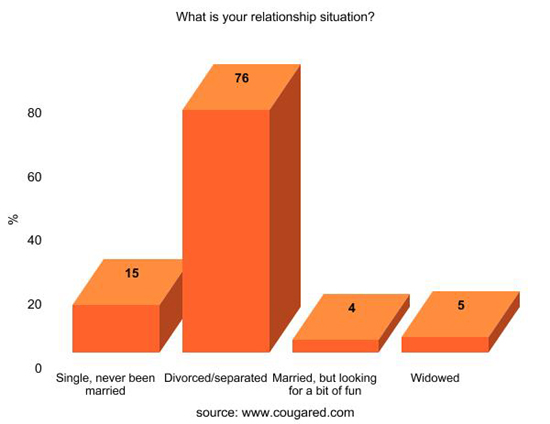 A clear majority (63%) say they have been on the cougar dating scene for several years, but a newer group is coming through that has only been active cougars for a matter of weeks or months (23%). Finally there are 14% who consider themselves to be cougar novices.


---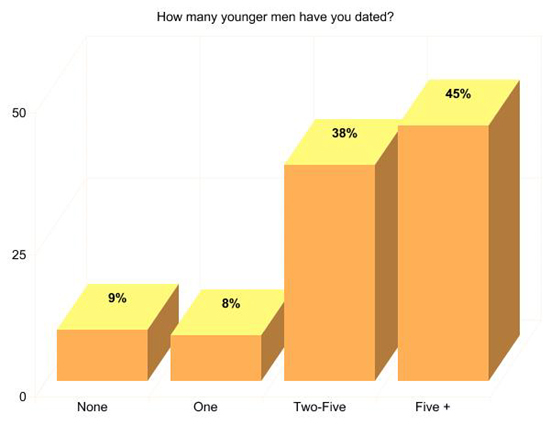 The vast majority of the older women polled said they had dated younger guys more than once, and more than half of those were serial cougars, having got together with more than 5 younger guys. 8% are still one-time-only cougars, with 9% still waiting for their first cougar dating experience.



Part 2: Age Gap Preferences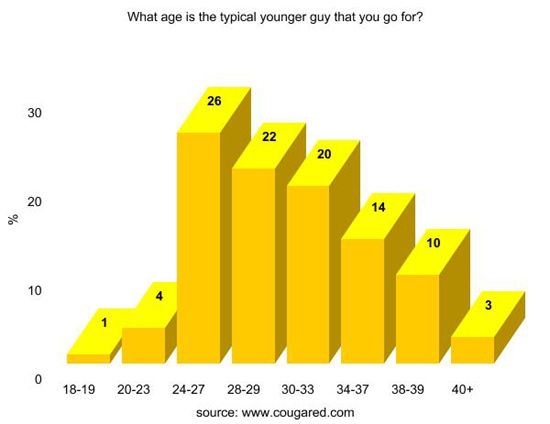 Men peak as ideal cougarbait in their mid-late 20s: almost half of the older women said that they ideally would date men in the 24-29 age ranges. The early to mid thirties men still had significant appeal with 34% of women preferring men aged 30-37. By late thirties and early 40s appeal starts to tail off, with votes from just 13% of the women polled. It seems that women don't like their cougar 'prey' too tender either, with the 18-23 age ranges attracting interest from only 5% of women.


---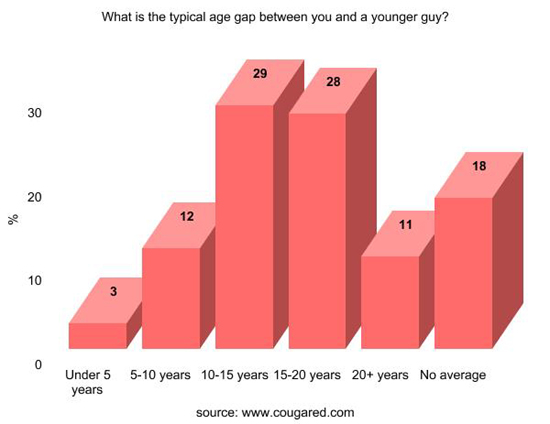 The most common age gap range is 10-15 years (29%), followed very closely by 15-20 years (28%). The more modest 5 to 10 year gap accounts for 12% of cougar relationships, and 11% women said the typical age gap was more than 20 years. The remaining 18% said there was too much variation to assign typical age gap.


---
Part 3: Meeting and Dating Men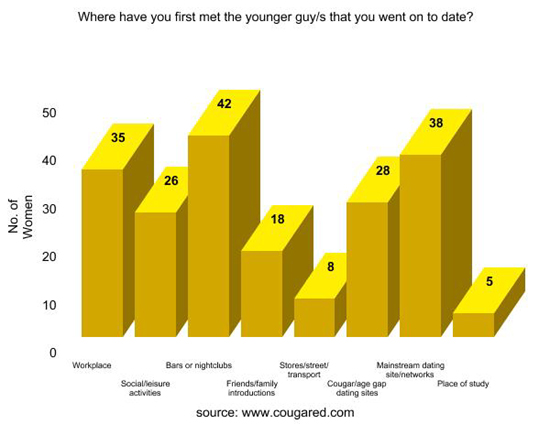 The internet proved the most popular way for older women to meet younger men with around 66% of women polled saying they had met younger men at either cougar dating sites, mainstream dating sites or social networking sites.*

Bars and nightclubs are the hottest places for cougars and younger men to first meet in the 'real world', with 42% of older women saying they had proved to be fertile 'hunting grounds'. The next best place to meet was the workplace, with 35% citing successful experiences there. Another popular offline way for older women to meet guys was through leisure activties like sports clubs and book groups, with 26% saying that had worked for them.

A sizable 18% said they have met younger men through friends and family introductions, while 15% have met their younger match in a store, on the street or on trains and buses. Other less popular but noteworthy places were adult education centers, the gym and speed dating events.

*As the survey was conducted online, with many respondents coming from the membership of dating sites the results may be a little skewed towards the online world.


---


The classic dinner date topped the list of typical first dates for older women and younger men with 19% of the vote. A close second is the more laid back option of drinks at a bar of club (16%). Daytime dates don't feature too heavily with just 5% citing a coffee date as typical and no-one polled selecting the option of a lunch date. The majority of the remainder could not name a typical date as it varied too much between guys.


---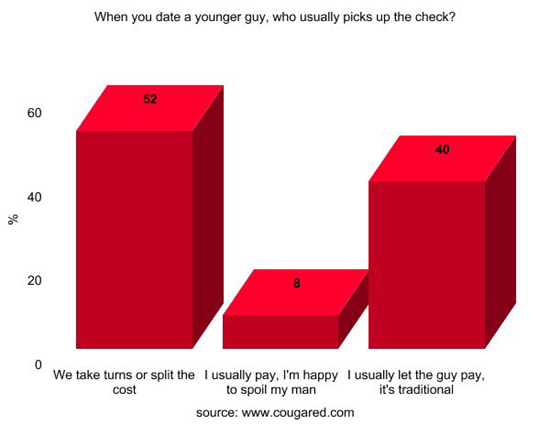 Most (52%) older women and younger men split the check on a date, while 40% say they usually let the guy pay because "it's tradtional". Meanwhile, 8% of cougar women choose to pay the whole check on a date because they "like to spoil their boytoy".


---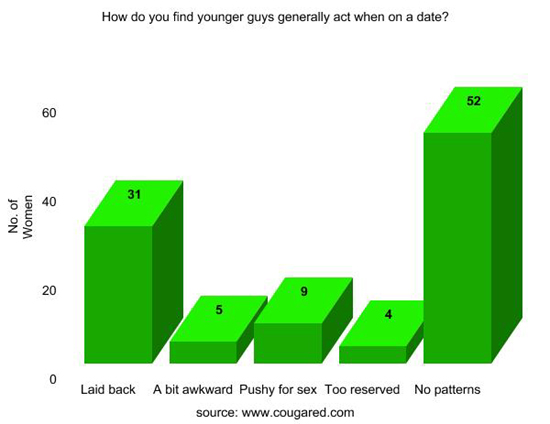 Younger men are much more likely to be relaxed (31%) than they are to seem nervous (5%) on a date with an older woman. Almost 1 in 10 is a bit too pushy about sex however (9%), but just 4% are cautious and wait for the woman to make the first move.


---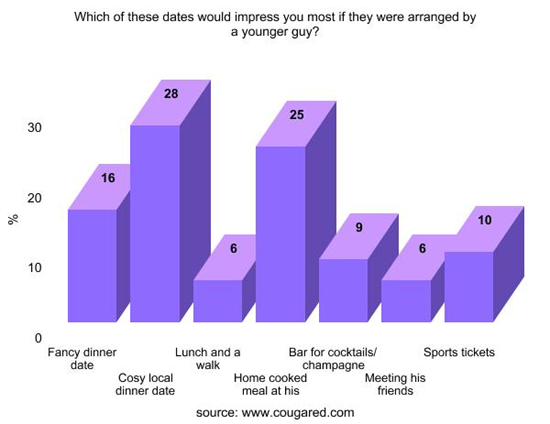 The most popular date choice with older women was a cosy dinner date at a friendly local restaurant, chosen by 28%, followed closely by a romantic home cooked meal at his place which 25% said they would opt for. A fancy dinner date was most appealing to 16% of the women polled, while front row tickets to a sports date was the preference of 10%. The flashier cocktails and champagne evening was chosen by 9%, with the remainder angling for either a lunch date (6%) or meeting up with his buddies in a bar (6%).


---
Part 4: His Friends and Family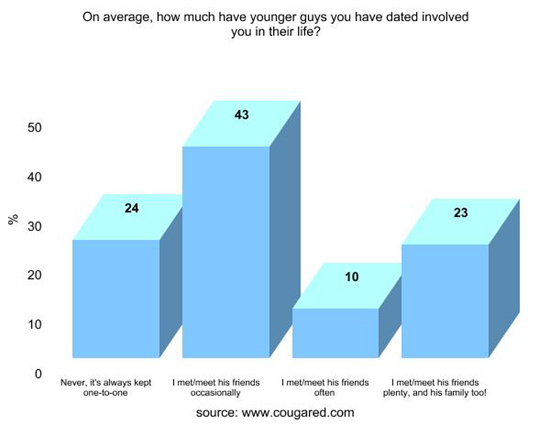 Approaching half of the older women (43%) said they had tended to meet their younger guy's friends occasionally but 33% met the friends often and sometimes his family too. On the other hand, almost a quarter of cougars (24%) never get to meet their younger man's friends as it is strictly a one-to-one relationship.


---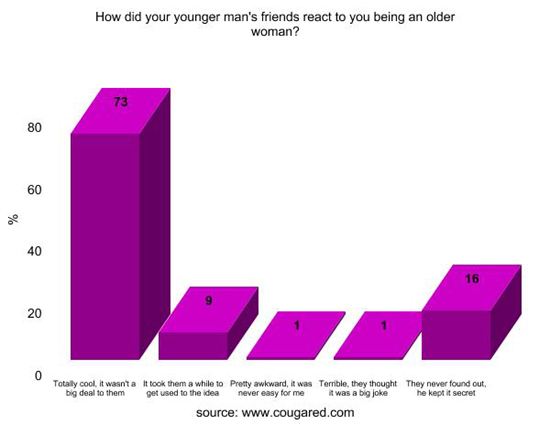 A hefty 73% said that the younger guy's friends never made a big deal that their buddy was dating an older woman but 16% of guys were thought to have kept it a secret. It took a little while for 9% of women to be accepted by their man's friends but 2% never broke through and always got a hard time from his pals.


---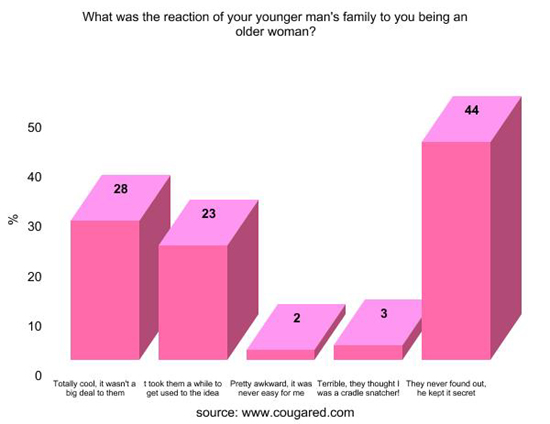 Nearly half (44%) of women said that younger men keep their cougar relationship a secret from family, while 28% said it was out in the open and the guy's relatives were fine with it. Almost a quarter (23%) of women reported that the younger guy's family knew about it and got used to the idea eventually, but 5% of the women got a rough ride from his kin.


---
Part 5: Younger vs Older Men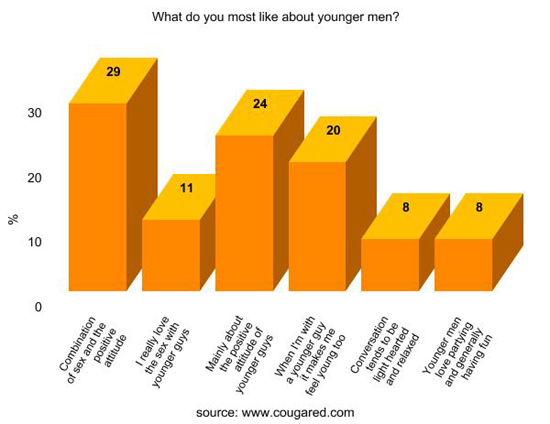 For around a quarter of the women polled (24%) it was simply the positive attitude that drew them to younger men, but for slightly more (29%) it was that aspect combined with the better sex that gave guys their junior the edge over men their own age. Exactly 20% claimed that they were attracted to younger men primarily because it made them feel like they were rolling back the years. Fun factors like lighter conversation (8%) and the party lifestyle (8%) were the other reasons given.


---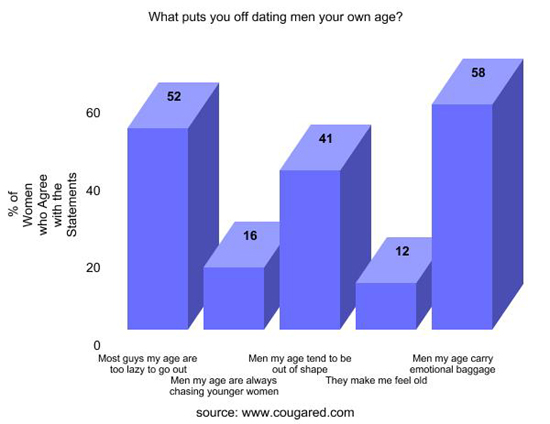 The number one reason that cougar women (56%) were put off dating men their own age is the emotional baggage and serious attitude to life of their male contemporaries. The second most common factor cited (52%) was the 'laziness' of men as they get older. Men in their 40s-60s letting themselves get out of shape was a major turn off too, with 41% of women saying it is among the reasons they prefer younger guys.

The third most referred to reason (16%) why older men are yesterday's news for cougars is a desire to turn the tables on the tradition of men chasing girls half their age, while 12% of women said that being with men their own age made them feel old.


---
Part 6: Relationship Aims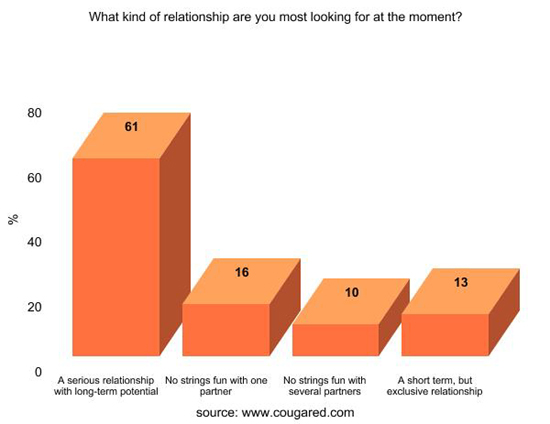 Almost two thirds of women (61%) polled are looking for a serious long term relationship with a younger man. The remaining 39% is split between women who want 'no strings' fun (26%) and a short term exclusive relationship (10%).


---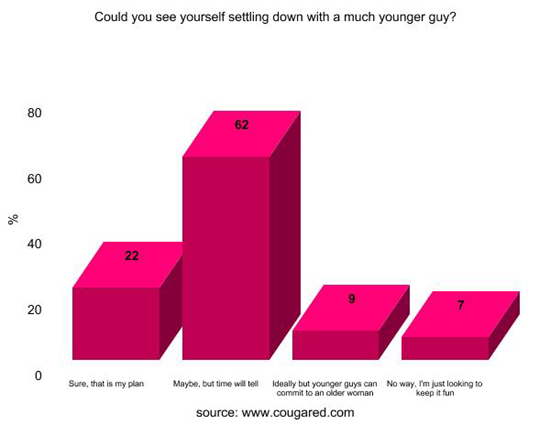 A huge 84% of cougar women are either considering finding a younger man to build a life with (62%) or are seriously committed to the idea (22%). A further 9% of older women would like to settle down with a guy much younger but do not believe they can find a man willing to commit to an age gap relationship. Just 7% say they aren't interested in making home with a younger guy and are purely in it for fun.


---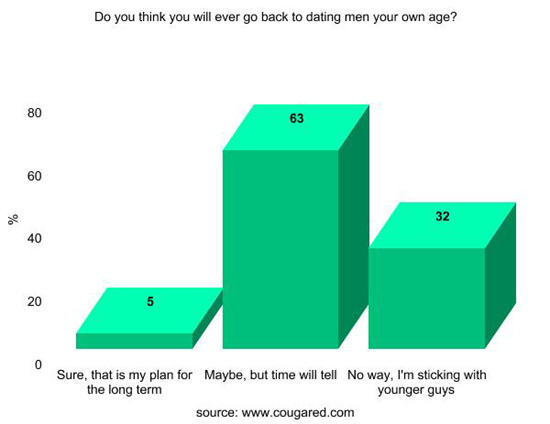 Around one third (32%) of cougar women say they will never go back to dating men their own age, but it is grey area for 63% who believe they might do one day. Only 5% of women polled plan to ever return to seeing men their own age.


End of Report. This research was conducted in mid-late 2009.

If you have any questions about this survey report or would like to interview a representative of Cougared.com for a newspaper/magazine, please get in touch via the Contact page