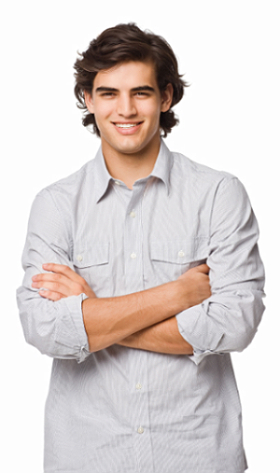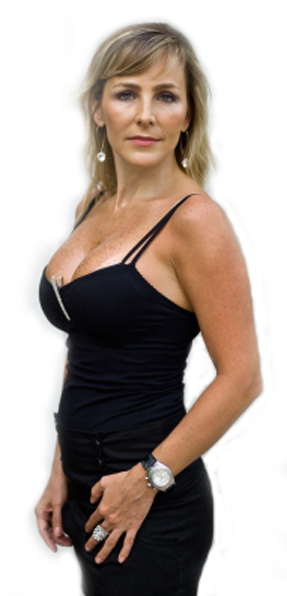 Cougared.com ran a survey into the attitudes and opinions of cougars in 2009, which was written up in respected publications including Psychology Today and extensively covered on the blogosphere.
At the start of 2011 we decided it was high time to find out what the men - aka the 'Cubs' - think about the phenomenon that is cougar dating today.
We asked the loyal members of our cougar dating site to answer burning questions like:
Why do you date older women - is it just for the sex?
Have you ever been cougared by your mom's best friend?
At what age should cougars 'retire'?
What do your parents think about your cougar crush?
Which celebrity is your ultimate cougar fantasy?
Curious to discover what our eager 250 cougar-hungry cubs thought about these and the other tantalising questions we put to them? Welcome to...
The Cub Report: Dating Cougars in 2011
- Cougared.com goes inside the mind of the younger man
Member of the media or a blogger? For more information and quotes about the survey below or cougar dating in general contact Oliver Jameson, founder of Cougared.com, at oliver @ cougared.com or tel: +44 7890 112 402.
Age breakdown of the younger men who took part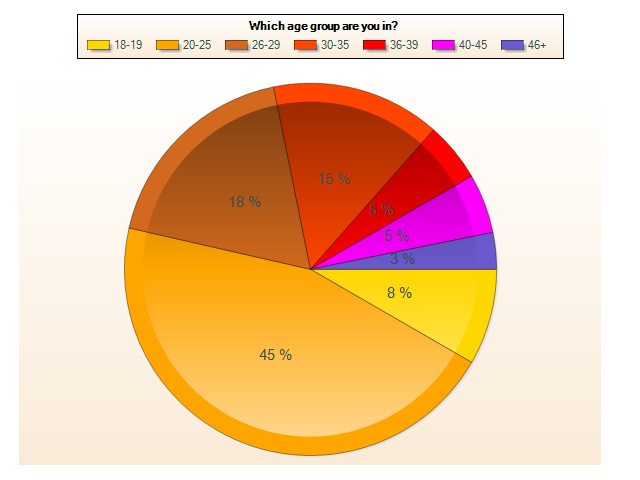 ---
Part 1: Cougar dating 101: where, when & how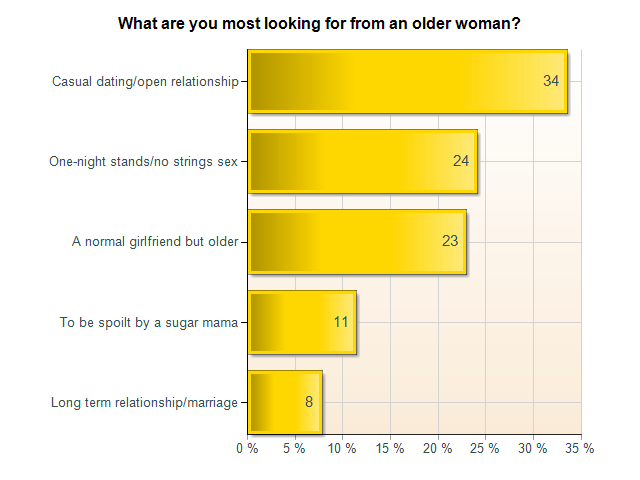 34% are seeking a casual relationship with a further 24% admitting it is all about no strings sex for them. At least you're honest boys. Older women looking for long term love take heart though: 23% are looking for a normal girlfriend/boy(toy)friend set-up and a love-hungry 8% are seeking the real thing that will go the distance. Cash strapped cougars better watch out however - 11% of men said they are after a sugar mama.
---
Exactly half of the cubs we asked are attracted to the maturity and confidence that older women bring to the table, and no doubt, the bedroom. Meanwhile 22% are seeking respite from the drama and shenanigans of women their own age. A curious 13% are looking for sex education and 9% reckon they are so damn hot the cougars will be driven wild.
---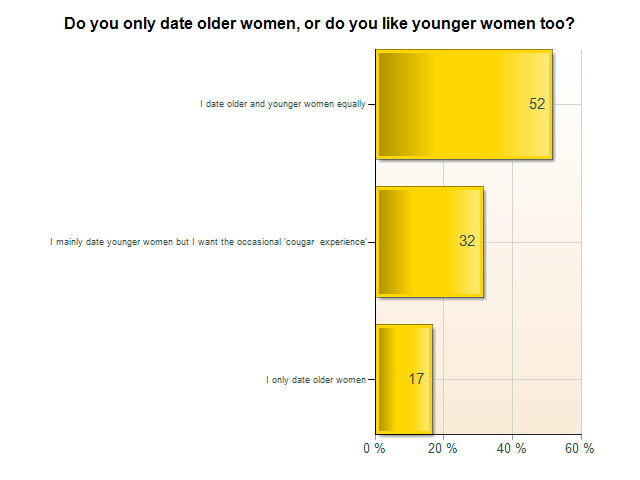 The majority of younger men we surveyed like to switch between cougars and kittens - with only 17% claiming to be dedicated to the pursuit of older women. 32% are what you might call cougar curious; after the occasional experience but mainly prefer girls their own age.
---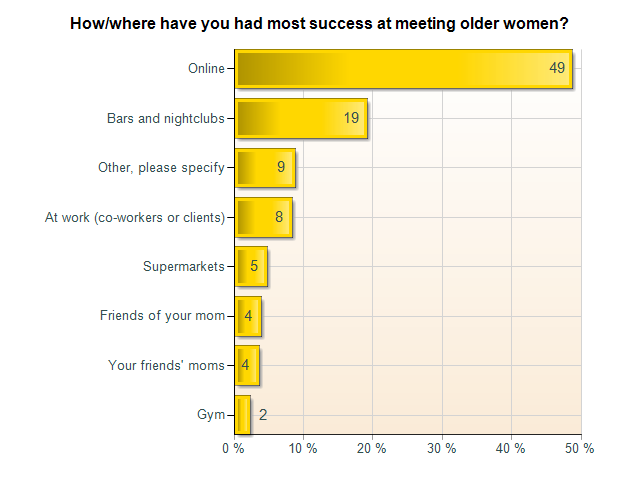 Online is the runaway winner as the best place to meet older women (49%) - and we are delighted because, did we mention, this survey was run by the dating site Cougared.com? Next best was easily bars and nightclubs (19%) followed by the old classic of the office cougar encounter (8%).
---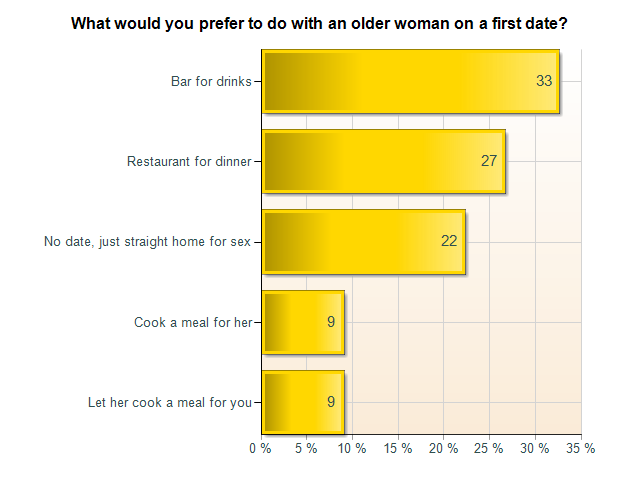 One third ideally like to meet their hot cougar date for a few drinks in a bar, with 27% preferring to add some dinner into the mix. A sizable 22% however would opt to skip the date altogether and go straight home for sex...you old romantics!
---
Chivalry is certainly alive and well in the cougar dating scene - despite being much younger and probably having less cash, 41% of younger men always pick up the check, 50% insist at least on going Dutch, while only 8% want to sponge off a sugar mama.
---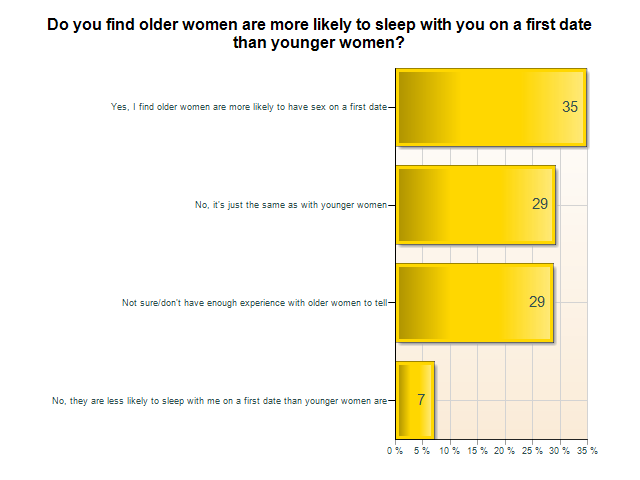 This one is a probably too close to call - 35% say older women are more likely to have first date sex while a combined 36% say they are not. More work is needed on this one to get a definitive result - perhaps a field report is required guys?
---
Part 2: The Age-old Question of a Cougar's Age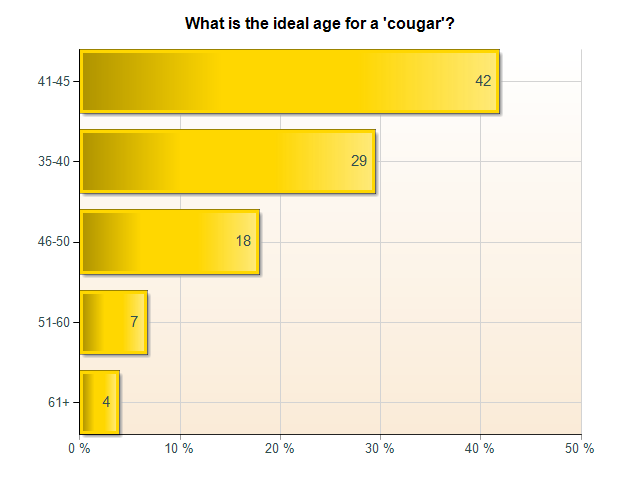 The sweet spot for a cougars age range was 41-45, and because the most popular age of the respondents was early-mid twenties, it seems therefore the 20 year age gap may be optimal for your average cougar lover.
---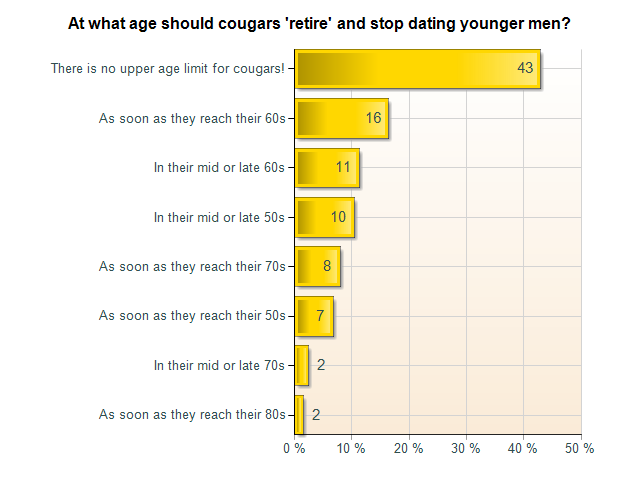 Great news for the more senior among cougars - over 40% said there is no upper age limit for cougars. We say there is no need to hang up your sexy playsuit and designer clothes when you reach your 60s, 70s or beyond!
---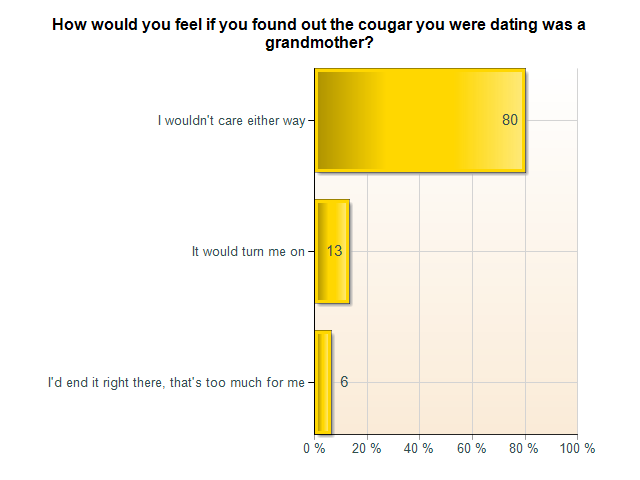 A massive 80% said they wouldn't care if their hot cougar happened to double as a doting grandma. And a further 13% even said it would turn them on. So clearly the age of the older cougar - or is that "grougar" - has arrived.
---
Part 3: Tell me about your mother (and her friends)...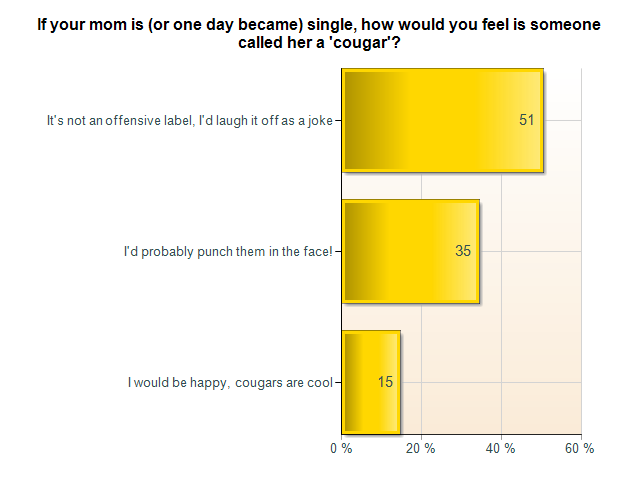 Over 65% (combined) of cubs were fine with the label cougar on their mom if she was single but more than a third were firmly anti-cougar when it came to their own dear mama. How sweet!
---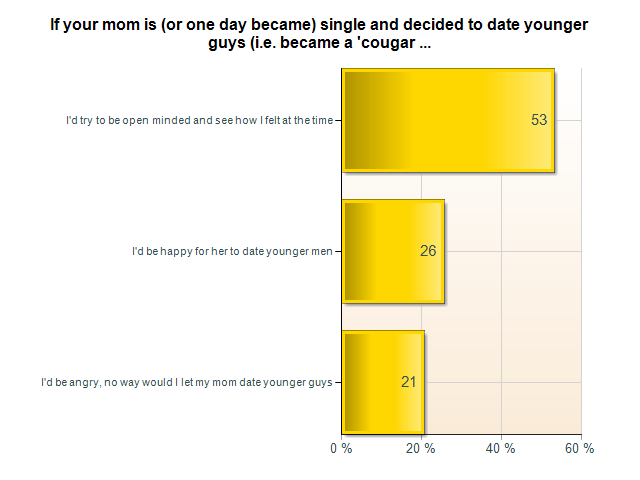 More than half would be open minded if their mom became a cougar, and 26% would actually be happy - perhaps they like they idea of having a new buddy their own age as their mom's boyfriend. But 21% wouldn't stand for it, so mom's better check with your kids first or there could be a family feud on the way.
---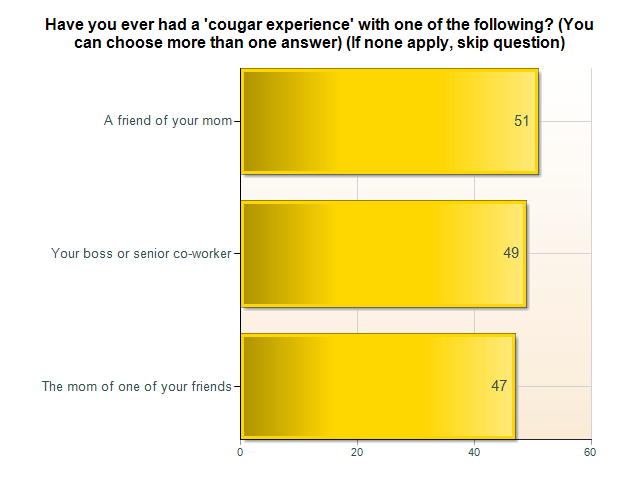 For this one we gave the option to skip if none applied so the figures above are the actual numbers of cubs who said: "Yep, I've done that". Technical point over, back to the fun part; that means 51 (20%) of the 250 cougar chasers we asked have had an encounter with a buddy's mom...American Pie, anyone? A similar number (18%) had dabbled with their mom's friend. Cougars prowling the workplace are not to be underestimated either - plenty (19%) have had some fun with an older boss or co-worker.
---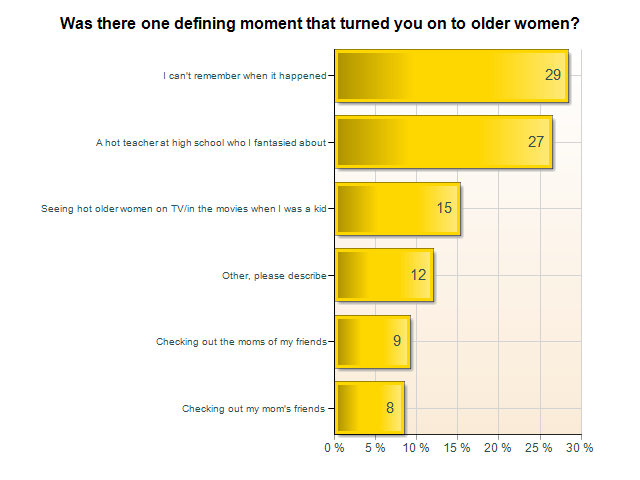 Among those cubs who could remember their earliest cougar memories, it was the sexy high school teacher (chemistry class?) who turned them onto the joys of the older woman. Next up - so to speak - was seeing hot older women on TV and in the movies. From Catwoman to Cougarwoman...
---
Part 4: Friends, Family and the "C" Word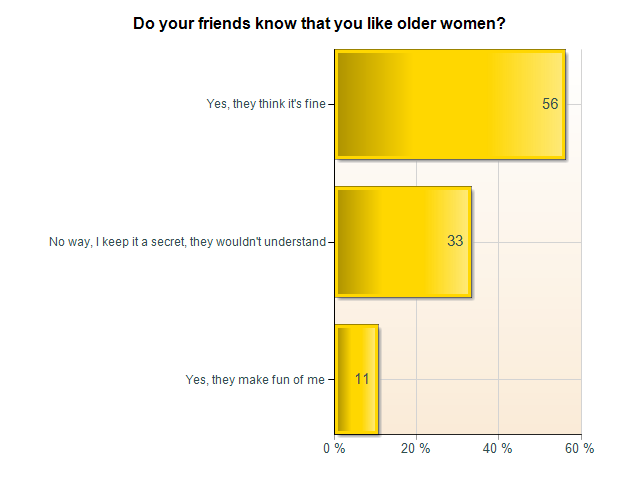 More than half are happy to tell they friends that they are into mature women, even if for 8% it means taking some mild abuse. One in three still hide it from their friends...come on guys it's time to come out of the Cougar Closet.
---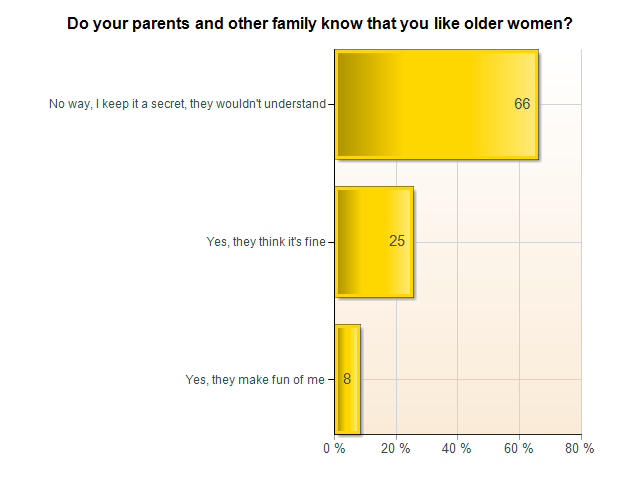 Two-thirds of cubs we polled said that their love of cougars was kept a secret from their families. Maybe they think mom and dad aren't ready to see their little boy dating a woman who's not going to give them grandkids - or maybe it's just old fashioned ageism.
---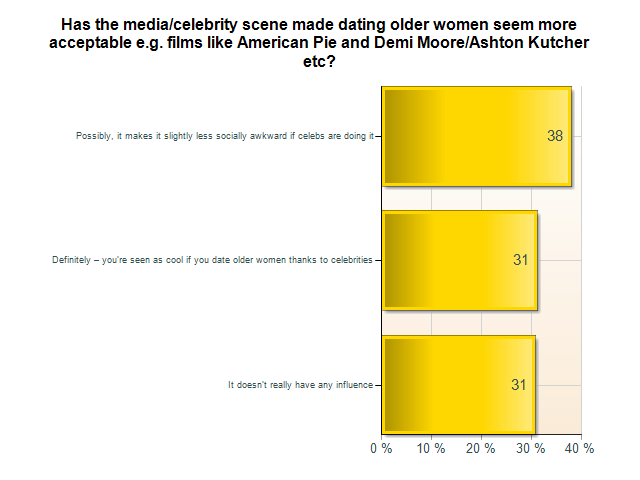 A good majority agreed that celebs like Demi Moore and movies like American Pie have made being into cougars more socially acceptable. Who would have thought that Stifler's mom and Ashton Kutcher's preference in women could change the lives of thousands if not millions of men. Good work guys!
---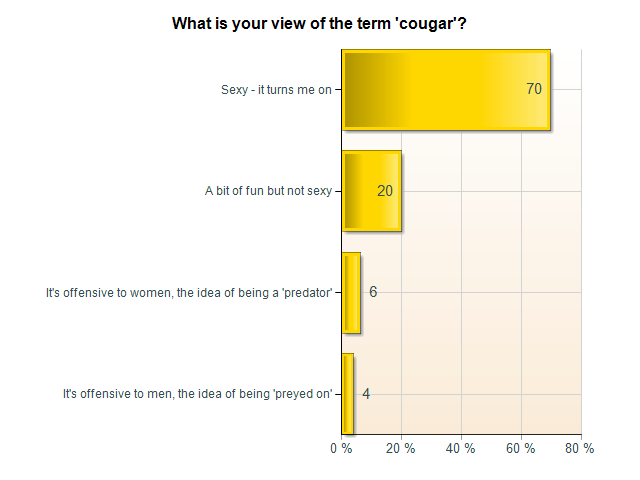 A huge 70% of cubs love the word 'cougar' and find the idea turns them on. Grrrrr. Meanwhile perhaps among our more politically correct younger gentlemen, 10% find it offensive.
---
Part 5: Fantasy Cougars - Hollywood Hills Vs Capitol Hill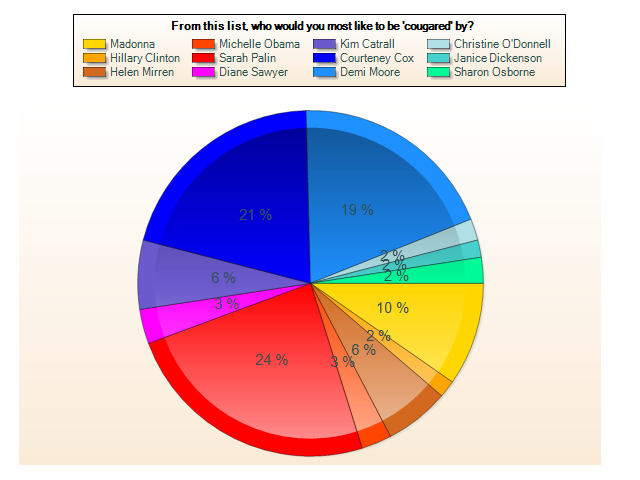 She may have been beaten by the Democrat machine on 2008 but it appears Sarah Palin wins the cougar fantasy women election easily, with an impressive 24% of the vote from out shortlist of candidates that included Michelle Obama (just 3%), Hillary Clinton (2%), cougar legend Demi Moore (19%) and TV cougar supremos Courteney Cox (21%) and Kim Catrall (6%).
---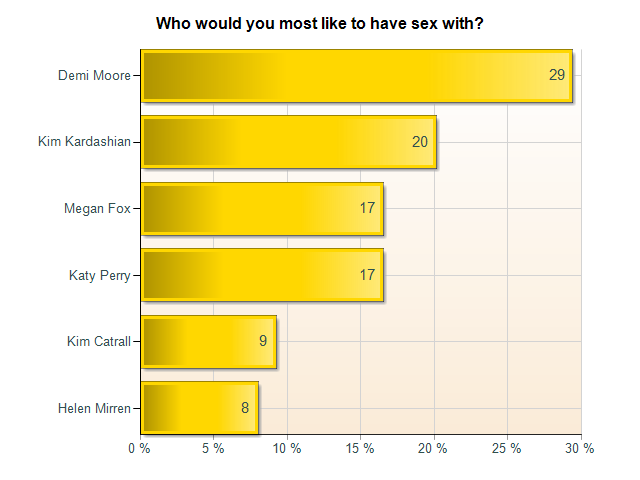 Admittedly the guys answering are all self-confessed cougar admirers, but it was still nice to see Demi Moore seeing off fierce competition from the likes of Hollywood sex kitten Megan Fox, pop starlet Katy Perry and party animal Kim Kardashian.
---
That's it folks, the end of another eye-opening research report from Cougared.com, the leading 100% FREE cougar dating site. We hoped you found this survey interesting reading.
About the survey respondents: 58% were American, 8% British, 5% Canadian and the rest from all around the world. All were male members of the dating website Cougared.com and volunteered to take part during January 2011.
If you would like to write about it on your blog or news website/magazine we would be delighted to provide you with more information and quotes.
Please contact Oliver Jameson, founder of Cougared.com at oliver @ cougared.com or tel: +44 7890 112 402.